공지사항
교육/행사
(Foreigner)『2019 One Asia Cosmetics & Beauty Forum』
『2019 One Asia Cosmetics & Beauty Forum』

The "2019 One Asia Cosmetics & Beauty Forum" will be held on Thursday, 5 September 2019 at Langham Place Guangzhou, China.

This annual forum has served as a crucial platform for both Korean and foreign cosmetics & beauty companies to find business opportunities and promote their products through exhibition and networking program.

The cosmetics & beauty industry in S. Korea is experiencing steady growth thanks to the industry's continued investment in R&D and quality improvement.

Korean cosmetic brands are growing rapidly in the global market, along with the increasing interest in Korean pop-culture. The innovative and high quality Korean cosmetic & beauty products with reasonable price tags are enough to catch the eyes of customers overseas.

The 2019 One Asia Cosmetics & Beauty Forum aims to enhance your understanding of China and Korean cosmetics market and regulatory systems, thereby promoting cosmetics trade in the region.

There is no registration fee, and Chinese–Korean simultaneous interpretation will be provided throughout the information seminar.
Lunch & Dinner will be provided for free to all attendees of the Forum.

It will be an excellent opportunity for anyone in the industry to network and share business ideas.
We invite you to register this forum.
Please be aware that the venue of the event is accessible ONLY for registered individuals wearing a valid badge.
To register, please send the below information to the Secretariat of Forum (gmeg_sunny@naver.com) via e-mail before Aug. 23(Fri), 2019.
Name :
Nationality :
Company name :
Department & position :
Tel :
Mobile phone :
Email :
<Program>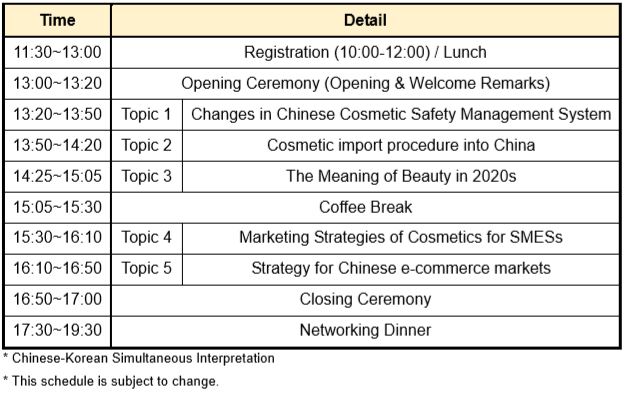 Attachments :
1. Invitation Letter_2019 One Asia Cosmetics & Beauty Forum
2. Program detail_2019 One Asia Cosmetics & Beauty Forum
3. Registration form_2019 One Asia Cosmetics & Beauty Forum